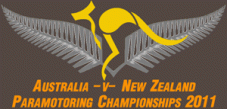 Type of event:
paramotors

When:
22. 04. 2011 - 24. 04. 2011
Where:
Jaspers Brush Airfield, Berry, Australia
Contact:
http://www.ppgaustralia.com/AussieVKiwi/ Aust_V_NZ_2011.htm

This is a competition that alternates yearly between Australia and New Zealand.
Trophies for: Best New Zealand Pilot -- Best Australian Pilot
The Winning Country takes home the ANZAC Trophy.

This event is open to all pilots and is not specifically for advanced pilots.
Competitions tasks are set to match the skill levels of all pilots.
The aim being to help pilots improve their skills and to learn from each other.
And to have some fun......

The event is also open to pilots attending for recreational flying only, outside competition task times.

This event aims to attract distributors and instructors to promote their services and equipment.
Also, to attract spectators and media to help promote the sport and its growth.
It will also serve as the National Championships for each country.

The 2011 event is to be held here in Australia at Jaspers Brush Airfield, about 1.5 Hrs south of Sydney airport.

The Jaspers Brush area is a spectacular place to fly. It is on a coastal plain with beaches
and headlands 8 km to the east and the mountains of Jamberoo and Kangaroo Valley, 4km to the west.
Also a number of free flying sites, within easy striking distance.
Copyright © 2010 Flying Events
Webdesign
by