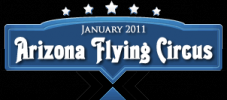 Type of event:
paramotors

When:
28. 01. 2011 - 30. 01. 2011
Where:
Phoenix, Arizona
Contact:
http://www.arizonaflyingcircus.com/

Powered paragliding and lots more in the heart of Arizona's warm desert south of Phoenix. If you thought last year's Saturday night fire was big, wait 'til you see what Pat "BB Canon" Smith has up his fireproof sleeve. Rumor has it that he's building a 14 foot tall sculpture that will be the centerpiece of the fire! For more information, please visit www.Airparamo.com or www.AZPPG.com.
Copyright © 2010 Flying Events
Webdesign
by